You can get a few details regarding this story from Channel 41 in the video above, but you won't hear about the Muslim Brotherhood connection to the story from any of the Main Stream local news. They are paralyzed by political correctness.
In 2014 the United Arab Emirates UAE designated the Muslim American Society as a terror organization, and in 2020 MAS is building a MEGA MOSQUE in Kansas.
"after contentious debate, leaders of the Muslim Brotherhood in the United States changed the group's name to the Muslim American Society."
Chicago Tribune 1993
The video below from the March 11, 2019 Overland Park Planning Commission meeting highlights a woman who arrived early and asked about "the ties the Mosque has" but she was quickly silenced. WATCH THE VIDEO BELOW
Philadelphia Comm. for Human Relations whitewashes investigation into Muslim American Society (MAS) school that posted a video of their students singing:

"we will chop off their heads…we will lead the army of Allah fulfilling his promise."

Watch: https://t.co/veKtIZmuy0 pic.twitter.com/YYvWJ9wWGq

— Creeping Sharia (@creepingsharia) February 28, 2020
https://platform.twitter.com/widgets.js
ICK and MASKC featured world famous anti-Semite and HAMAS supporter Linda Sarsour at a fundraiser January 11, 2020. We posted about Linda's ties to Salah Sarsour and HAMAS fundraisers in Overland Park, KS going back to 2009. MORE HERE
The Olathe Police Department has been infiltrated by the Muslim brotherhood owned Islamic Center of Kansas as shown in the screen capture above. Kamran Qadir is president of ICK and also serves on the Citizen Police Advisory Council for the Olathe Police Department. The Overland Park Police Department has also been infiltrated by Muslim Brotherhood connected American Muslim Council Heartland Chapter president Mahnaz Shabbir.
Shabbir serves in the roll of "Citizen Advisor" for the OPPD, and also thinks we need more people like HAMAS supporting anti-Semite Linda Sarsour.
The Olathe Human Relations Commission is also influenced by the Muslim Brotherhood owned ICK. Shakil Haider shown listed above on the 2020 Olathe City website and the 2004 ICK Board of Directors. Another name on the ICK BOD is HAMAS supporting Muslim Brotherhood leader Dr. Jihad Qaddour from Overland Park, KS. In the video below Dr. Jihad lays out his plan to convert 100,000 Sioux Falls, South Dakota residents to Islam and build a masjid on every corner.
The Global Muslim Brotherhood Daily Watch May 6, 2010
New Kansas City Islamic Umbrella Group Addressed by U.S. Muslim Brotherhood Leaders
"Most of us came from different countries, traditions and cultures," said Shakil Haider, chairman of the Midland Islamic Council. "When we came here, we settled in different areas."
But two weeks ago, about 200 Muslims of various cultures came together in Pierson Auditorium at the University of Missouri-Kansas City for the council's inaugural dinner meeting….. Muzamil Siddiqi told those gathered that Muslims need to respect one another's identity, diversity and background. They must work together on the things they have in common and excuse one another for the things on which they disagree. They should follow the law of Allah (SHARIA) and the law of the land, he said.
Islamic Society of North America leader Muzammil Siddiqi pictured below at the 2012 Midland Islamic Council event at UMKC with local Kansas City Muslim leaders Mahnaz Shabbir and Jabir Hazziez.
Jabir Hazziez is with the Jackson County Sheriffs Department and the Midland Islamic Council. Pictured below in uniform using training material from CAIR, a designated terror group in the UAE with known ties to HAMAS and the Muslim Brotherhood.
The "no-interest" part of Habitat mortgages eliminates a thorny issue for the Muslims, said Shakil Haider, chairman of the Midland Islamic Council.
Islam generally forbids charging or paying interest on loans.
"The scholars have told us that when you live in a non-Muslim society, you can make some adjustments," he said. "You can take out a mortgage to buy a home and pay interest, but we are not allowed to accept interest payments at any time."
Haider recalled that the days following 9/11 were terrifying for the American Muslim community. They were grieving with the rest of the country, and viewed with suspicion virtually everywhere they went.
Haider said he even received a phone call from an FBI agent after his son made a remark in school that his father knew every Saudi pilot.
"It was true," Haider said. "I worked in aircraft maintenance dispatch in Saudi Arabia for years, so I told the FBI, 'I know all Saudi pilots, but I do not know any Saudi terrorists.'"
The video above is possibly the most important and most informative of this entire post. The video features video from Ghazali Islamic Video that was based in Overland Park, KS in the 90's.
Hamed Ghazali is the Chairman of the Muslim American Society's Council of Islamic Schools and served as Principal of the Islamic School of Greater Kansas City.
Member of the Police Executive Research Forum (PERF) of Kansas City 2001 – 2003
Muslim Judge in the Circuit Court of Missouri: Appointed by the circuit Court of Missouri as a special Master (Muslim Judge) Kansas City, Missouri – 1993
UPDDATE: February 23, 2020 – Philip Haney, a patriotic DHS Whistleblower has just died by GUNSHOT to the chest. An investigation is currently underway. Haney recently mentioned in an article that he was looking at going back to work for the DHS. WATCH HIS LAST INTERVIEW BELOW
Jihad Influence in America Reaches into @VP @Mike_Pence's Office

"There's no segment of our social-political structure that you could throw a dart at and not hit somebody involved with the Muslim Brotherhood," says founding member of DHS

Below & ++ at > https://t.co/GBt1YYpylz pic.twitter.com/pTepvbV3Ed

— Creeping Sharia (@creepingsharia) February 15, 2020
https://platform.twitter.com/widgets.js
---
We have sent this info to WIBW, KSHB, KMBC, KSNT, Shawnee Mission Post, Overland Park Mayor Carl Gerlach, OPPD Chief Donchez, Governor Laura Kelly, Rep Steve Watkins, Rep Sharice Davids, Senator Jerry Moran and numerous other Midwest media/Elected officials. They won't talk about the topics of Islam, jihad, Sharia, fiqh, kafir, Hadith, abrogation, Sira, "MUSLIM BROTHERHOOD" etc.
The Shawnee Mission Post seems to be the only News outlet in the KC area to use language that includes the word Sharia but they equate those who are against Sharia with "ISLAMOPHOBIA". They also don't reveal the name of a single leader with ICK or MAS-KC.
The Shawnee Mission Post reported in April about the Islamic Center. A few important excerpts from the article are below.
Some emails about proposed Overland Park Islamic center hint at anti-Muslim sentiment, others show open arms
APRIL 8, 2019
It was a blip of a moment during a long, contentious planning committee meeting in Overland Park. The room was packed with people waiting for their agenda item – a proposed Hedaya Islamic center campus near 163rd Terrace and Roe Avenue — to come up for public comment. There were twelve items to go.
The woman stepped up to the podium, apologized for being late, and launched into a potentially controversial comment. But by the time she got to the word "mosque," the commission and a murmuring crowd shushed her. Come back later, when that item is up, they said. She never did.
Later, speakers were warned that they must limit their comments to traffic, noise and other planning concerns. No one else had anything negative to say about Islam.
But were they thinking it, just the same?
To try to find out, the Post looked into 121 emails sent to city planning officials just before and after the hearing for the preliminary plan of the Hedaya Islamic Community Center.
'THEIR GOAL IS TO BRING SHARIA LAW'
One older man contacted by the Post said that based on literature he'd read from a conservative source, he equated Islam with murder and jihad. He was so terrified of retribution, he asked that his name not be used for fear he come to physical harm.
Emails sent to public officials are considered to be part of the public record. Even so, the city is allowed to redact the contact information of the writers. An unsuccessful attempt was made to find working phone numbers for many of the writers.
There were some less-than-subtle hints of Islamaphobia. One woman shared her view that the religion hates Jews, Christians and homosexuals. "Please do not be deceived, she wrote. "Their goal is to bring sharia law to destroy our hard fought freedoms in the USA!"
MUSLIM COMMUNITY SAYS CENTER WOULD FILL A VOID
But Muslim supporters represented almost half of the emails to the city. Many of them were identically worded, but a few writers took a minute to add some of their own comments.
"I know first-hand that these community centers are establishing the next generation of responsible citizens who contribute to local communities and making a positive impact to our local economy and environment overall," one person wrote.
One writer, who said he's resided in Overland Park since 1987, said the center would fill a void for the growing Muslim community and would provide one thing he and his wife did not have when their children were young. "(The center) will provide a place for families to get together for family and religious events as well as provide the young with an educational environment that will strengthen their religious faith and become upstanding citizens upon growing up," he wrote. "The Muslim community in Overland Park has grown to a point that it feels the need, more strongly than ever, for an educational institution to serve in the upbringing of our youth."
---
The Islamic Center of Kansas is a Muslim Brotherhood-linked entity that was created exactly three months after the September 11, 2001 Islamic jihad attacks on America.
The Center was established on December 11, 2001 and is also registered as an Islamic Trust (Waqf) with North American Islamic Trust (NAIT).
---

Who is North American Islamic Trust (NAIT)?

A recently declassified FBI memo from December 1987 stated that NAIT's "support of Jihad (a holy war) in the U.S. has been evidenced by the financial and organizational support provided through NAIT from Middle East countries to Muslims residing in the U.S. and Canada."

NAIT was also named in a May 1991 Muslim Brotherhood document—titled "An Explanatory Memorandum on the General Strategic Goal for the Group in North America"—as one of the Brotherhood's 29 likeminded allies dedicated to waging a "grand Jihad" aimed at "eliminating and destroying the Western civilization from within."
Excerpts of the 1991 Brotherhood document from America's largest terrorist prosecution in US federal court, Government Exhibit 003-0085 3:04-CR-240-G in U.S. v Holy Land Foundation, et al.
In the video above Bridgitte Gabriel reads from the Muslim Brotherhood document known as the "Explanatory Memorandum". Linda Sarsour who is the upcoming featured guest at the ICK fundraiser on January 11, 2020 tweeted her desire to take away the vagina of Bridgitte Gabriel and Ayaan Hirsi Ali.
---
The pictures below show both the older and younger generation of the Muslim American Society KC. We posted about Yousef Hammouda and Feras El-Ghussein in 2015 after UMKC-MSA was exposed doing da'wah in Kansas City area Public Schools, see more here.
Facebook adds Muslim Brotherhood figure to 'oversight board'

The Muslim Brotherhood's website, Ikhwanweb, released a statement on Twitter identifying Tawakkol Karman as a "Yemeni Muslim Brotherhood member."https://t.co/pRmlM2JHcr pic.twitter.com/OVlZeFEzyA

— Creeping Sharia (@creepingsharia) May 16, 2020
https://platform.twitter.com/widgets.js
The Muslim Brotherhood 4 finger hand gesture is explained in the article below. You can read our previous post from the 2013 Kansas City rally and the MAS-KC organizers here. Mustafa Hussein was aquatinted with a KC auto parts dealer who pledged allegiance to Al-Qaeda. Mustafa was quoted as saying he had seen "no signs of extremism". Dr. Jihad Qaddour who is named above is a long time MAS leader and HAMAS supporter and we posted more about Dr. Jihad here.
MAS-KC leader Mohamad Albadawi is not only on a TSA watch list but his daughter was to marry a jihadist convicted of plotting an attack in Chicago! They also run a REFUGEE organization in Overland Park, KS.
A New Muslim Brotherhood Symbol: R4BIA
There is a new Islamist symbol appearing in protests, on social networking sites and at demonstrations throughout the Middle East. The symbol allegedly originated as a four-fingered hand sign by pro-Morsi protesters during demonstrations in Egypt's Rabia al-Adawiya Square. The hand gesture quickly evolved into an image of the hand commonly depicted in black on a bright yellow background. It is called the "R4BIA sign." In English it is officially spelled in capital letters and the letter "A" is replaced with the number 4. It has become the symbol of the massacre of pro-Morsi supporters in Rabia al-Adawiya Square on August 14, 2013. This new sign already has its own history, legend and mysticism and it contains all the attributes that Islamists favor in their symbology, particularly martyrdom.
---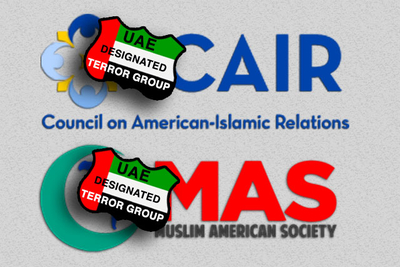 On Nov. 16, 2014, the United Arab Emirates (UAE) took the unusual step of designating the Council on American-Islamic Relations (CAIR), and the Muslim American Society(MAS) – as terrorist organizations.
They were among 83 groups named for their connections to the Egyptian Muslim Brotherhood.
The Wahhaj Family Compound and Their Dem-Connected Father
Canada Free Press – August 13, 2018
It turns out the man arrested for running a Muslim terrorist training compound in rural New Mexico is the son of an influential Democrat-connected jihadist imam who was close to the Blind Sheikh who orchestrated the bombing of the World Trade Center in 1993 that left six people dead.
Siraj Ibn Wahhaj Jr., who is 39 or 40, of Clayton County, Ga., was arrested after authorities found 11 hungry, filthy children living in squalid conditions in a remote part of New Mexico. Wahhaj, who has been charged with felony child abuse, had reportedly been training the children to commit school shootings. The remains of a three-year-old disabled boy, since identified as Wahhaj's son, were discovered on the property which was filled with weapons. Two of Wahhaj's sisters and two other adults were also arrested.
Investigative reporter Paul Sperry reports that Wahhaj "has been on the radar of federal counterterrorism officials for the past 13 years on suspicion of jihadist activity."
Imam Siraj Wahhaj has a history in Kansas City as a subversive. Watch the video.
In 2010 hate preacher Khalid Yasin was a featured guest at several greater Kansas City area mosques, including the Islamic Center of Kansas.